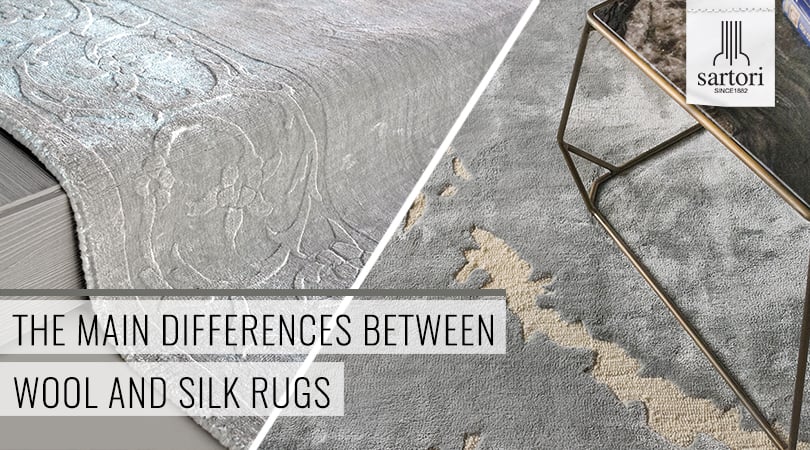 Wool and silk are two of the most commonly used materials in high-end rugs. Each material offers unique advantages and disadvantages for both weavers and buyers. Whether you want a luxury rug for your home or an artistic carpet as an investment, understanding the material is essential. What is the difference between silk rugs and wool rugs?
Silk rugs vs wool rugs during the weaving stage
Silk is decidedly finer than wool. This allows the craftsman to weave more complex and precise patterns into the rug. It goes without saying that silk rugs are much more difficult to make. Hand weaving is already a complex skill and the use of exceptionally fine materials requires an even higher level of expertise. Furthermore, silk is much more expensive to obtain than top-quality wool, so it is less likely to be used in lower quality rugs.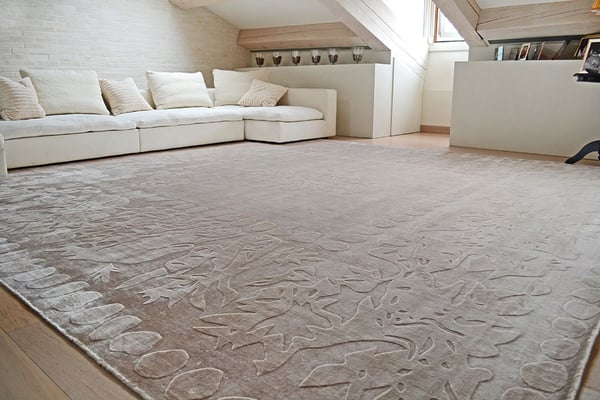 Silk rugs vs wool rugs at the time of purchase
Due to the higher cost of the materials, as can be expected, silk rugs are usually more expensive than wool rugs, but labour and material costs are not the only factors which go into evaluating a rug. There are other aspects to be considered when selecting the material used to make a rug:
Durability:

wool rugs are very hard-wearing. The pile is thicker and stronger and naturally more resistant to splashing and staining. You can expect a wool rug to withstand decades of regular use. Silk rugs, on the other hand, are also hard-wearing but less so than wool and they are also more sensitive to spills which is why some rugs offer a mixture of wool and silk which brings out the best attributes of both fibres.

Appearance:

wool is an attractive material and can hold any dye very well so rugs of any kind can be made. However, in appearance, wool is quite similar to other materials. Silk, on the other hand, is very much sought-after for its unique beauty. The material catches the light and has an incredibly pleasant feel. Silk rugs usually offer more intricate and unique designs,

Care:

since wool rugs are hard-wearing, they can be cleaned relatively easily and should and can be vacuumed often. If they get stained, they can be cleaned with special detergents. Silk rugs require much greater care and must never be cleaned with hot water or steam. The use of an expert cleaning service should be considered for handling top-quality wool and silk rugs.

Cost:

as already mentioned, silk is more expensive than wool. And, as can be expected, this is reflected in the end cost of the rug. Furthermore, because silk rugs are usually made to be more intricate in design, they can be even more expensive. Of course, when it comes to high-end rugs, art, place of origin and technique used are often more important than the materials themselves when it comes to determining costs.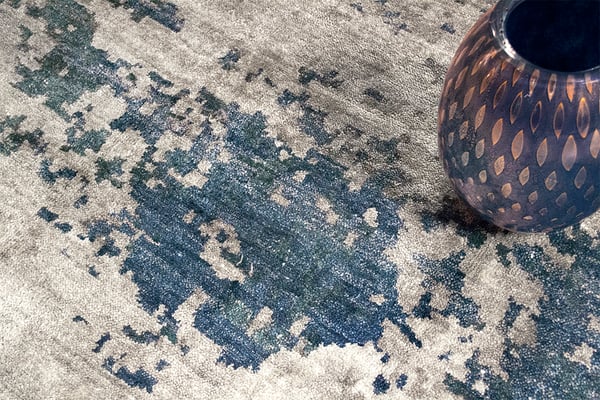 Silk rugs vs Wool rugs: which to choose.
Both wool and silk rugs can be very luxurious and worth having. In general, silk rugs are more expensive and sought-after. The exclusivity of silk and the skills needed to weave it have made it the material of choice for many able craftsmen. If you are looking for a rug as a work of art or to put on show, silk is probably the right choice for you. If you want a rug you can use in your home where it is likely to see a lot of wear, wool is probably the best and often cheaper option.
Other materials
As well as wool and silk, rugs can be made from linen, viscose, bamboo and banana silk.
If you want to know more to understand which rug is best for your home read our free guide and contact us!